SECONDARY MARKET


Many of my Editions are now on the Secondary Market. Over 98% of these were sold directly to individuals (rather than Galleries) so they are truly Sold Out, therefore the prices vary greatly depending on the seller. On each of their pages, I will list any prints I'm aware of for "resale", along w/ an average over the last 2 years (only from my records). If a Name & Address are provided, please contact the seller yourself, and deal directly with them. Otherwise, I will be handling the resale, and you can leave a message in the Guest Book, or contact me directly.
"CLEAR CREEK CROSSING"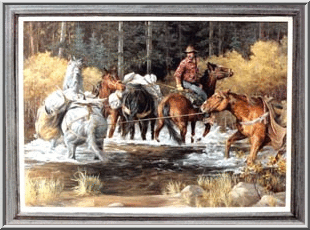 "Clear Creek Crossing" was my first print to sell out, and it remains one of the most popular (judging from resale values). For a Larger view and details, "click" on the image above. For other Sold Out Editions you can pick from the list below, or chose ALL for a preview of all these images.
ALL

"RODEO

"HEADS UP"
"PARDNERS"

"IN TOO DEEP"

"HIDDEN FALLS"
"TOUGH CHOICE"
"WALL HANGER"
"A PACKER'S VIEW"

"LATENT MONARCH"

"DOUBLE TROUBLE"
"KNIFE EDGE TRAIL"

"GOLDEN MORNING"

"LOW & TO THE LEFT"

"DOWN OFF TIMBERLINE"

"CLEAR CREEK CROSSING"

_______________________________________________________________________________________
Home
/
Prints
/
Sold Out Prints
/
Guest Book