"CLEAR CREEK CROSSING"
This was my first "Wreck" painting, and by the time I did it I considered myself rather an expert on this topic (having been in more than my share of "Rodeos"). The year I painted this I had 3 wrecks at this crossing, so it seemed the likly location. You might recognize Bob Martin in the middle, as I've used him in several paintings. Bob is the owner of North Park Outfitters.

Selected as "Artist Of the Quarter", Spring 1989, Bugle Magazine; It became the highest selling print ever handled through the Rocky Mountain Elk Foundation.
Image Size: 21 x 28______________________________________________Limited Ed. S/N 500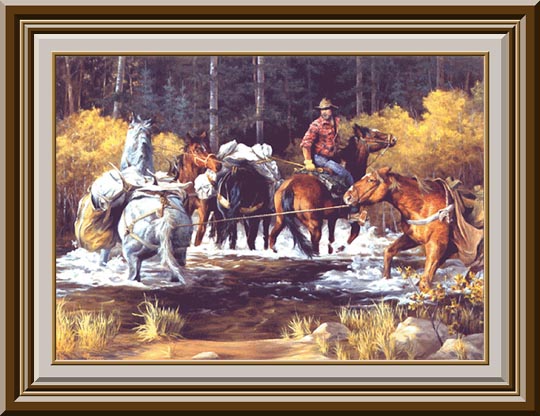 Average price (unframed): $1800
____________________________________________________________


Bob Russell
18862 County Rd. 394
La Salle, CO. 80645
(970) 302-5049

# 156/500 Framed (photo available upon request): $1800
__________________________________________________


Debbie Buchtel
P.O. Box 586
Beaver Lake, OR.
(503) 632-5338

#127/500 Framed, triple matted: $1500
__________________________________________________

#222/500 Unframed, Mint Condition: (Canvas Transfer) $ 1800
__________________________________________________

Fred or Cheryl Hall
(503) 656-2158
e-mail: ladyelk@juno.com


#126/500 Unframed: $1400
__________________________________________________